Ally International has intended to contribute the primary
role in providing the quantity set of manpower and resources to the NEOM – THE LINE Project, Saudi Arabia to all the industry domains such as Construction, Transport, Oil & Gas and Others.
NEOM is short for 'New Future'. It salutes the dawning of a new era. It captures a new future, unrivalled in concept and unmatched in imagination and intelligence.
It will be a futuristic new city 33 times the size of New York City. Built along the Red Sea, NEOM aims to be Saudi Arabia's answer to Silicon Valley and will include towns, cities, research, education zones, and  tourist attractions as well as a 100 mile linear, car-free city named This linear city will have no cars or streets, with all residents living within a five-minute walk of essential facilities. NEOM is, in every conceivable sense, unprecedented – a new future on earth like nothing on earth. Currently being developed in Tabuk, the northwest corner of Saudi Arabia that intersects Egypt and Jordan, NEOM is a pillar of Saudi Arabia's and is being constructed with a foundation that serves the 14 specialised investment sectors strategically designed to attract international investment, and all part of a grand push to diversify Saudi Arabia's so-far oil-centric economy. When completed it will be a city 33 times the size of NYC. It will be an independent zone, with its own regulations and social norms, created specifically to be in service of economic progress and the well-being of its citizens, in the hopes of attracting   and making NEOM a hub of trade, innovation and creativity.
THE LINE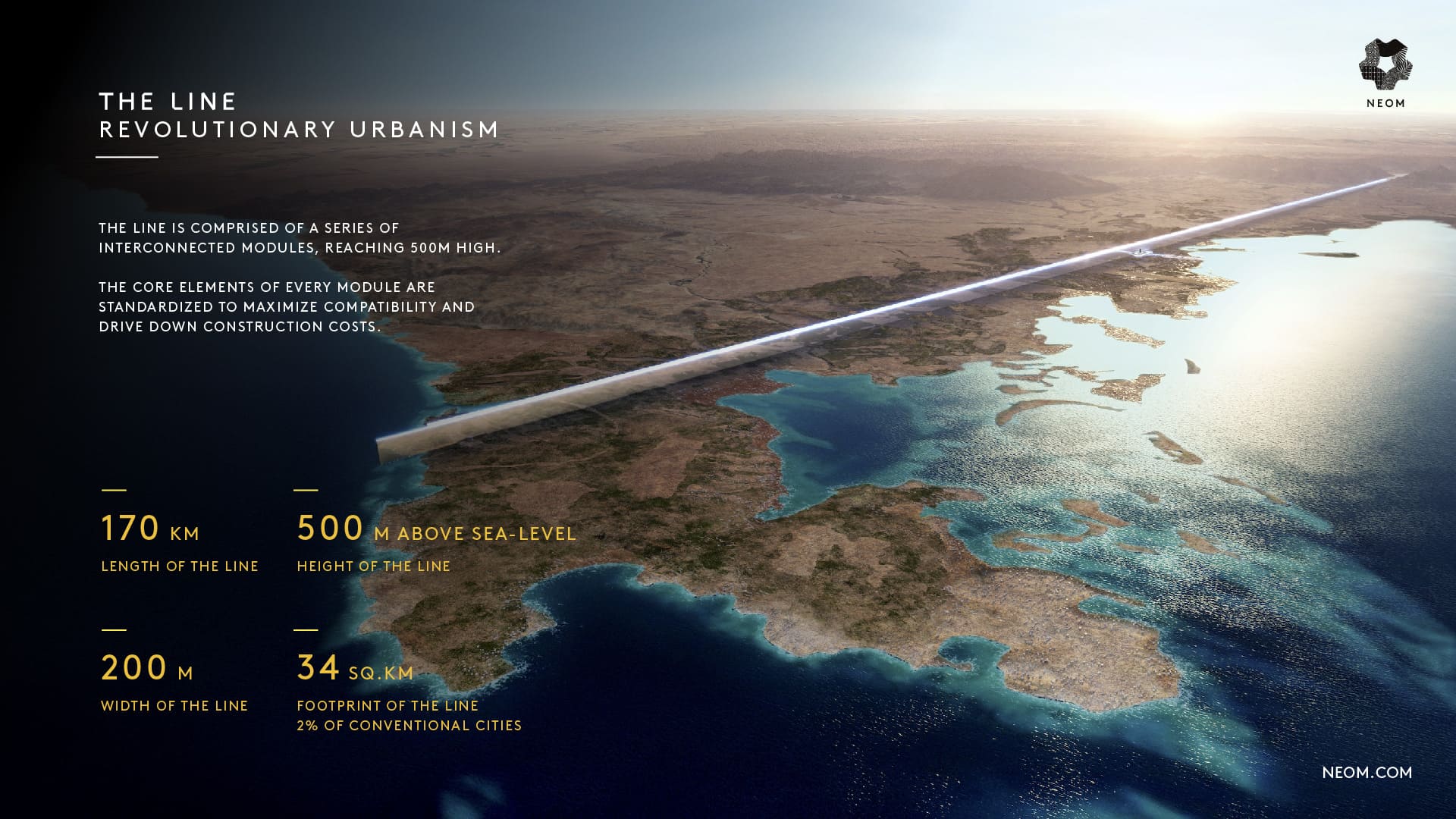 THE LINE, a city of a million residents with a length of 170 km that preserves 95% of nature within NEOM, with zero cars, zero streets and zero carbon emissions. THE LINE will consist of two 1,600 feet tall buildings that run parallel to each other and go across desert, mountains, and coastal areas.  When completed, the $1 trillion building will hold up to 5 million people and its residents will be able to commute end-to-end in 20 minutes 
The buildings will run from the Gulf of Aqaba through to a mountain resort and a complex that will house the Saudi government, according to the confidential plans. THE LINE is the first time in 150 years that a major urban development has been designed around people, not roads. Walkability will define life on THE LINE – all essential daily services, such as schools, medical clinics, leisure facilities, as well as green spaces, will be within a five-minute walk. Ultra-high-speed transit and autonomous mobility solutions will make travel easier and give residents the opportunity to reclaim time to spend on health and wellbeing. It is expected no journey will be longer than 20 minutes.