Keep employees happy with a convenient and inviting on-site cafeteria. With professional office cafeteria and kitchen design from Rapids Contract, you'll impress potential recruits and employees with streamlined food service and inviting dining spaces perfect for socializing and eating. Plus, you can save money by upgrading to energy-efficient appliances and lighting, all while creating a comfortable cafeteria for your staff.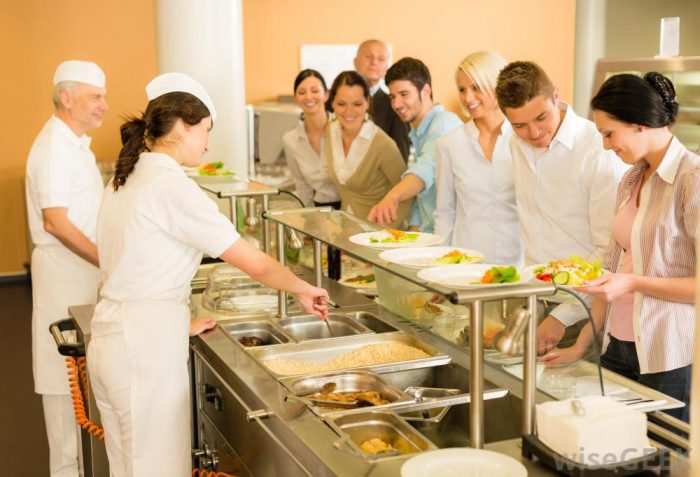 Expert Office Kitchen and Cafeteria Design
With a well-designed, full-service kitchen and cafeteria, you can streamline the way your employees order, pay, and receive their lunch, allowing them plenty of options as well as time to enjoy their breaks and their food. A carefully designed floor plan results in a cost-effective and efficient lunch service environment with plenty of options for healthy meals as well as comfort foods. A flexible kitchen sets up a productive way to provide a variety of menu items to keep employees coming back for more.
Project Management for On-Site Employee Kitchens and Cafeterias
Through decades of experience, we have exemplified the importance of communication in keeping employee cafeteria projects on schedule and on budget. Our team sustains regular communication with electrical, plumbing, and construction vendors and lets you know where we are in the process of building your cafeteria and kitchen. 
Equipment and Smallwares Fulfillment
Your purchase from Rapids includes everything from kitchen and cafeteria design to ordering equipment and installing it in your kitchen. We know the latest and greatest kitchen equipment for employee kitchens. We even have an online store of durable small appliances and equipment, so you can order replacements if you need them. 
Handling Local Code Requirements
Ease your mind with our expertise in boring and complicated health and building code requirements. Rapids handles all of this, ensuring your business' new kitchen remains in compliance and has the required documentation and specifications to ensure approval and authorization by local officials. 
Good Design Saves Money
You don't just want a kitchen and cafeteria that satisfies your employees—you want a kitchen that can help save you money. Excellent design can help you achieve those savings. Work with Rapids to create a design solution certified by the Leadership in Energy & Environmental Design Program (LEED). You'll discover how every design decision—equipment, technology, lighting, etc.—can save on expenses and potentially qualify your company for energy-saving tax credits. Reduce energy costs and leverage energy-efficient design with environmentally conscious employees.